According to the National Institute for Occupational Safety and Health (NIOSH), a CSTD is a drug transfer device that mechanically prohibits the transfer of environmental contaminants into the system and the escape of hazardous drugs or vapors outside of the system1. These devices serve as a critical tool to prevent exposure to hazardous drugs, which can cause serious health effects in healthcare workers. The use of CSTDs has been mandated in several countries, including the United States, due to the high incidence of hazardous drug exposure among healthcare workers. In this article, we will explore the key features and regulatory requirements of CSTDs, and why they are essential in protecting healthcare workers from hazardous drug exposure.
Why are CSTDs so important?
Hazardous drugs, such as chemotherapy agents, antiviral medications, and immunosuppressive drugs pose significant health risks to medical personnel who handle them. These risks include skin irritation, allergic reactions, reproductive issues, and even the development of cancer2. To minimize exposure to hazardous drugs and ensure the long-term health and safety of medical personnel, it is essential to implement best practices and safety measures.
What is the regulation status in the USA?
Specific requirements mandated by USP 800 guidelines include:
USP 800 is a set of guidelines3 developed by the United States Pharmacopeia (USP) and mandated by the Occupational Safety and Health Administration (OSHA) to prevent occupational exposure to hazardous drugs for healthcare workers. USP 800 aims to protect healthcare personnel, patients, and the environment by outlining safety standards for the handling and disposal of hazardous drugs in healthcare settings.
Proper use of personal protective equipment (PPE), such as gloves, gowns, masks, and eye protection.
Establishment of designated areas for receiving, storing, compounding, and administering hazardous drugs.
Implementation of engineering controls, including biological safety cabinets and compounding aseptic containment isolators.
Proper handling, decontamination, and disposal procedures for hazardous drugs and contaminated materials.
Specific requirements mandated by USP 797 guidelines include:
USP 7974 is a comprehensive set of standards designed to ensure safe compounding practices for sterile preparations. These regulatory requirements address critical aspects, including personnel qualifications, training, and hygiene; environmental quality and control; facilities and equipment; standard operating procedures (SOPs); and quality assurance and documentation. Personnel involved in sterile compounding must undergo proper training and demonstrate competency through written and practical assessments while adhering to strict hygiene protocols.
Personnel Qualifications and Training: Ensure that all staff involved in sterile compounding have appropriate training, demonstrate competency through assessments, and follow strict hygiene protocols.
Environmental Quality and Control: Maintain defined air quality standards using primary engineering controls, and regularly monitor the compounding environment to minimize contamination risks.
Facilities and Equipment: Design compounding areas that are segregated from other activities, with proper equipment such as laminar airflow workbenches or biological safety cabinets, and adhere to controlled temperature and humidity conditions.
Standard Operating Procedures (SOPs) and Quality Assurance: Develop and implement SOPs for all compounding activities, including preparation, labeling, storage, and disposal of compounded sterile preparations, and perform quality control measures such as sterility testing, endotoxin testing, and beyond-use dating.
Closed System Transfer Devices (CSTDs), such as EQUASHIELD's CSTD product line, play a crucial role in reducing the risk of exposure and contamination while complying with USP 800 and USP 797 guidelines. EQUASHIELD CSTDs provide a physical barrier between the clinician and the hazardous drug, preventing the escape of hazardous drugs or vapors into the environment during compounding and administration processes.
When does exposure to hazardous drugs occur?
Exposure to hazardous drugs and their vapors occurs throughout the whole chain of drug handling, from receiving at the hospital warehouse until disposal. Compounding and administration constitute the major portion of the drug handling chain as more people are exposed, thereby increasing the risk of exposure.
Contamination with hazardous drugs can occur via several routes:
Oral – through ingestion
Inhalation – breathing in vapors
Dermal – contact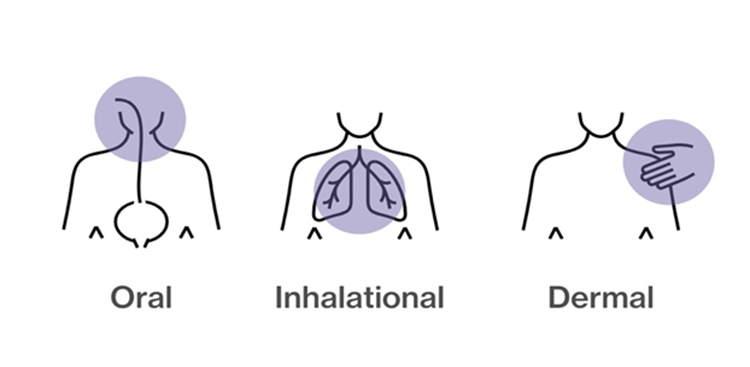 Different roles in handling hazardous drugs require specific recommendations:
Pharmacists and Pharmacy Technicians
1. Use closed-system transfer devices (CSTDs) during drug compounding to prevent the escape of hazardous drugs or vapors.
2. Work in a designated area with proper ventilation, such as a biological safety cabinet or compounding aseptic containment isolator.
3. Wear appropriate personal protective equipment (PPE), including gloves, gowns, masks, and eye protection.
4. Dispose of contaminated materials properly, following the facility's hazardous waste disposal guidelines.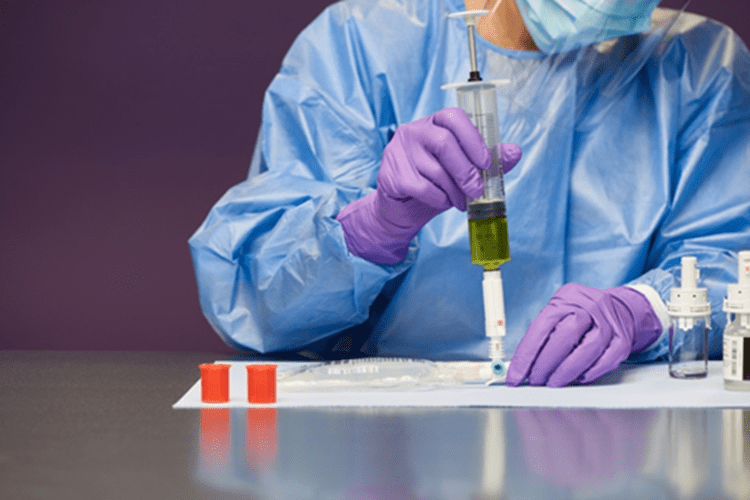 Nurses and Healthcare Providers
Utilize CSTDs during drug administration to minimize the risk of spills or leaks.
Wear PPE, such as gloves and gowns, while administering hazardous drugs and handling contaminated equipment.
Follow proper procedures for handling and disposing of hazardous drugs, including using puncture-resistant sharps containers for needles and syringes.
Educate patients and their families about the safe handling of hazardous drugs at home, including proper storage, administration, and disposal.
Environmental Services and Waste Management Staff
Wear appropriate PPE when cleaning areas where hazardous drugs are prepared or administered.
Follow facility-specific protocols for decontamination and cleaning procedures.
Dispose of hazardous drug waste according to local, state, and federal regulations.
Medical facilities and employers play a critical role in supporting these safety measures by providing adequate resources, including:
Regular training and education for all staff handling hazardous drugs, ensuring they are well-versed in safety protocols and procedures.
Supplying the necessary PPE and CSTDs for all personnel who handle hazardous drugs.
Implementing specialized ventilation systems and designated areas for drug preparation and administration.
Establishing clear guidelines and procedures for decontamination, cleaning, and waste disposal.
How can EQUASHIELD CSTDs help?
Pharmacists can protect themselves from hazardous drug exposure by implementing various safety measures, including the use of EQUASHIELD® Closed System Transfer Devices (CSTD). These devices are designed to create a physical barrier between the clinician and the hazardous drug, minimizing the risk of exposure during the compounding and administration process.
EQUASHIELD® CSTDs are unique in their ability to cover more routes of exposure than other solutions. Extensive clinical evaluation and studies4 have shown that standard syringes can become contaminated with hazardous drugs on surfaces exposed to the environment, potentially leading to vapor escape and plunger contamination. EQUASHIELD® addresses this issue with its closed-back syringe design, providing superior protection compared to alternative systems.
In conclusion, minimizing exposure to hazardous drugs is crucial for the long-term health and safety of medical personnel. By implementing best practices, using CTDS, appropriate PPE and equipment, and providing ongoing training and support, medical facilities can create a safer work environment for all staff members involved in handling hazardous drugs.