Training Overview #

Step 1: CSTD Training #
EQUASHIELD® CTSD training and use is critical prior to using the EQUASHIELD® Pro:
Helps the users manage the substantial amount of new information
Learn which pieces can work with the EQUASHIELD® Pro in the facility
User errors with CSTD cause issues with the EQUASHIELD® Pro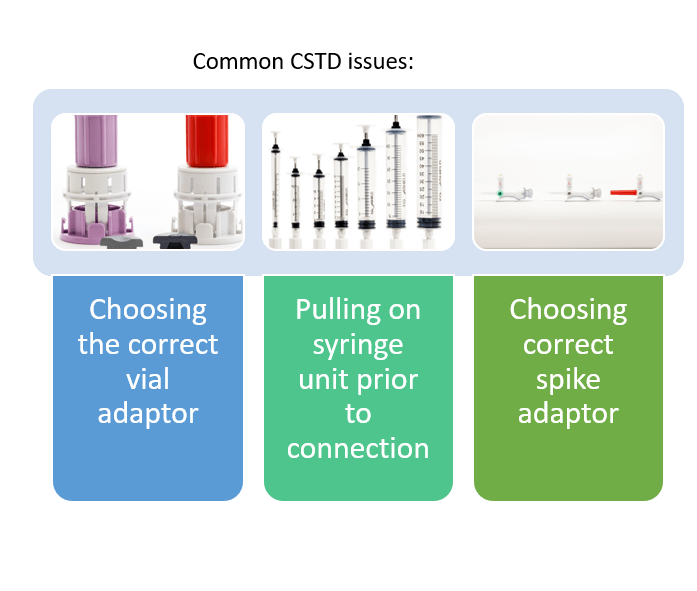 *Note: Syringe Unit EZ-60 and SU-1 cannot be used in Pro
Step 2: EQUASHIELD® Pro Overview Class #
Having a 'class day' is beneficial for many reasons:
Explain how it works so users feel confident
Describe features in-depth, what makes it unique
Gives familiarity to the users so when it's time for hands-on training, you can jump right into preparations
Makes the users feel more involved and willing to accept the changes
Can be done with PowerPoint, videos, simulations, etc.
Bring food
Consider having the group choose a name for their Pro
Step 3: Supervisor Application Training #
Will need to do this early in the process because it is needed for the installation validation process. Only for credentialed supervisor users will verify that the connection with Hospital Information System (HIS) is working properly.
Topics to cover include:
How to create drug database
How to enter a prescription
How to cancel a prescription
How to access the prescription reports
How to manually enter a prescription
How to create username/login for users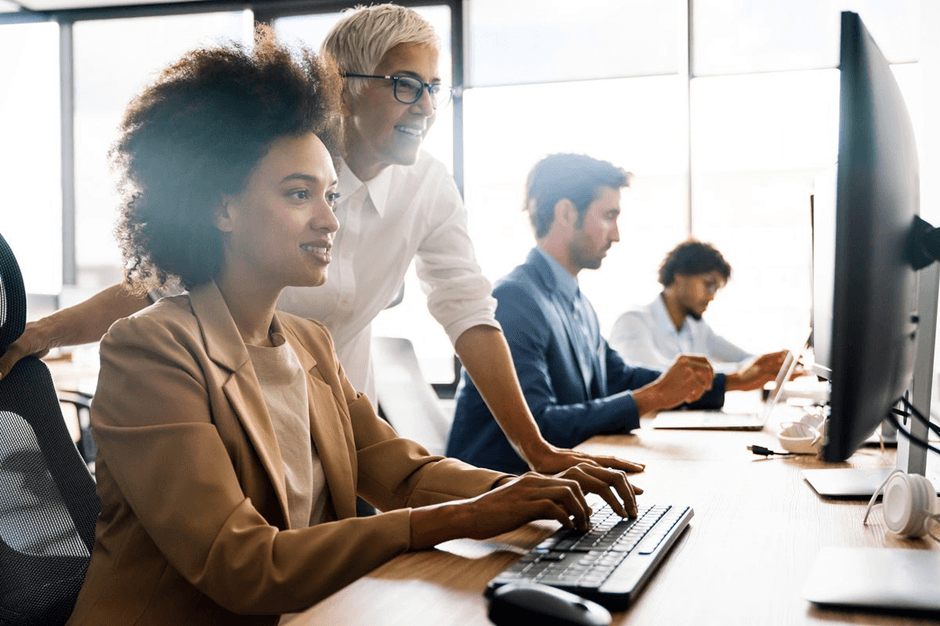 Step 4: Hands-On Training #
Overview #
The goal is for the user to feel comfortable with the Pro Provide the opportunity for users to learn and demonstrate how to do the basic functions of the Pro Document training with the latest version of SOPR-G-013 Operator Training Protocol.
Practice on saline/water only! Users will be nervous, and accidents will happen!
Do not use products made in training for clinical use. Highlight features against competitors
Follow facility protocols for clean rooms and safe handling of hazardous drugs, including PPE.
Ideal to have a follow-up survey to see how the training went, and how it can be improved.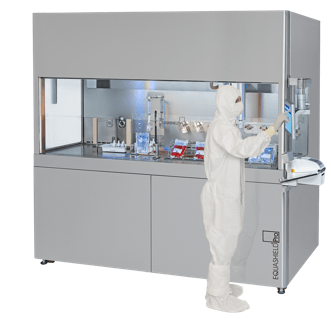 Confidence #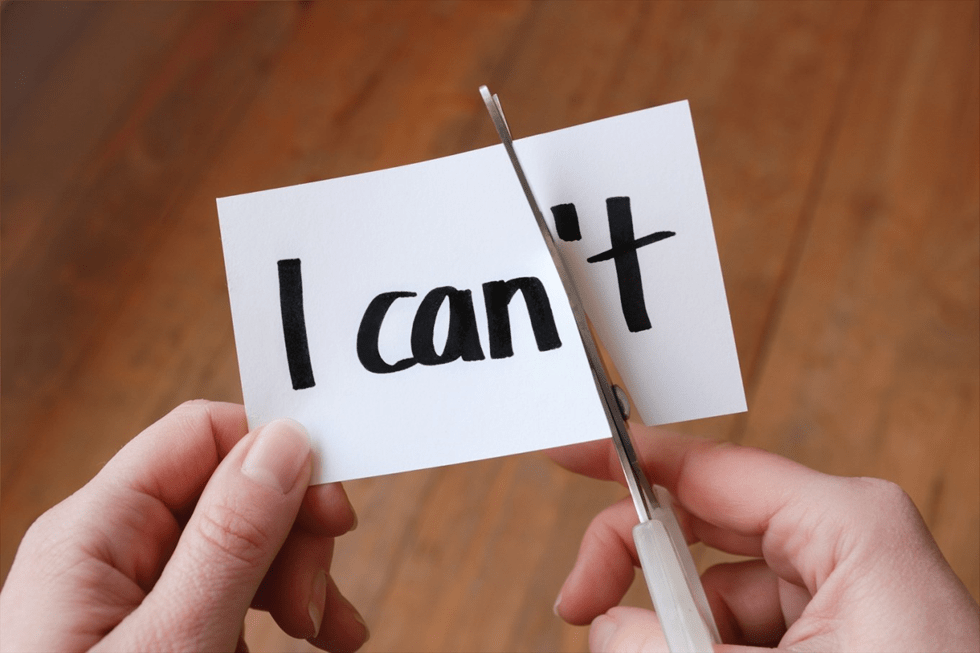 Understand that most users will be very nervous to use the Pro.
If the user is not confident, they will less likely be 'accepting' of the Pro.
Ensure the user that the Pro is a strong piece of equipment, and will not crumble under their fingertips.
Remind the user that the Pro will not allow the user to send out a dose that is inaccurate.
It is there to make their lives easier and safer!
Safety #
Safety first! #
Review that the CSTD gives extra safety features.
Review the Emergency stop button, Stop button on the user screen, and Side sensors that will stop all activity.


Do not touch the electrical cabinet!
Only certified people to perform any repairs.
Review vial loading sensors and syringe unit sensors: will prevent the user from getting hurt, but will not require a restart.

35+ safety sensors and 17+ image processing cameras for a high safety level.
Parts of the EQUASHIELD Pro #
General overview of Pro parts and what they do:
Buttons on the arm, do not power off the Pro or the computer!
User Screen
Offline Station for IV bag ID
Label Printer
Manual compounding area
5 robot arms
Vial loading area
Syringe loading area
Compounding stations
Reconstitution areas (shakers, diluent stations, 2 arms)
Waste
Glass partitions removal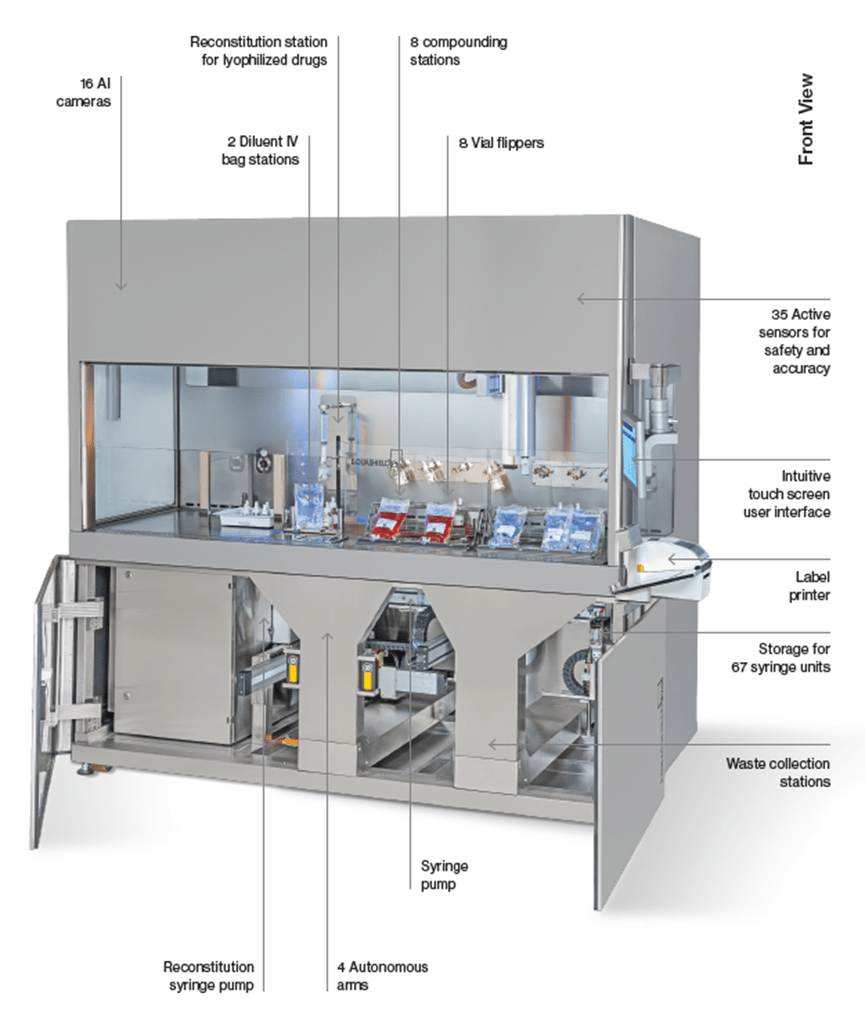 User Screen #
Review each tab and what it does:
How to login, Built-in Test (BIT), note side R corner with login info, etc.
Each row id a pre-approved prescription from the supervisor
Touchscreen, the user has the freedom to choose what to compound
Explain top-row tabs
Explain how to organize prescriptions based on time, drug, ID, etc.
Explain red exclamation points mean something is missing
Everything above the red line is in process, everything below is pending
Learn to read the prompts at the bottom of the screen
Have users log in/log out for practice.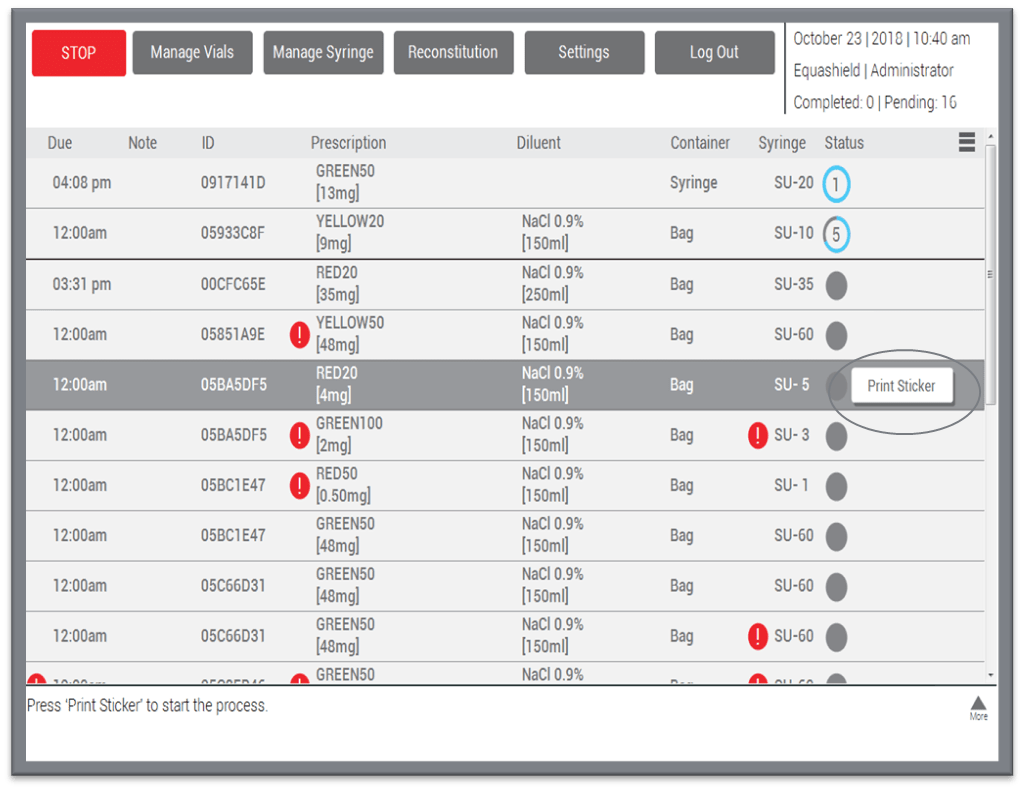 Manual Workspace #
Main Ideas:
Keep the same facility protocols as if it were a biological safety cabinet/workbench.
Only put CSTDs on consumables under the hood, ISO 5
This is an area that is meant for you to organize your supplies
Have users place vials on vial adaptors in the manual workspace for practice.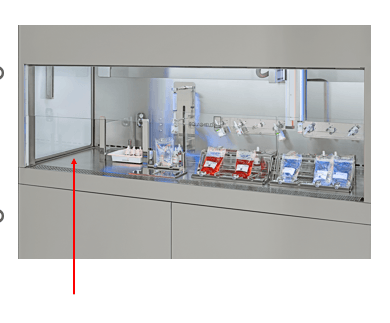 Vial Loading #
Main Ideas:
All vials must be loaded/removed from the Pro via the vial robot arm.
All vials should have the vial adaptor in place securely.
All vials should have a clear, legible label that is not hidden by the vial adaptor.
Image processing will look for a label (OCR), QR code, or barcode.
Storage can accommodate about 55 large vials- do not recommend many vials in storage.
Can load vials that are half-used, will calculate the volume.
Press 'Manage Vials' tab. Everything in the left column is what you need for prescriptions, and everything in the right column is what you have.
Best to only load about 3 vials at a time.
Remove only 3 vials at a time, especially if there is a vial protector on the bottom.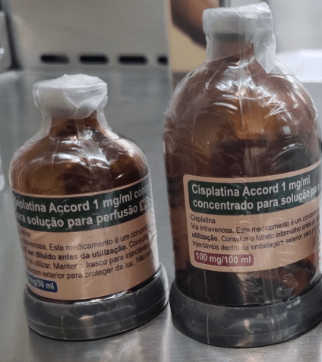 All vials should have the correct vial adaptor on, or there will be complications
Prefer to leave the tray in the vial loading area
Make sure to push the tray all the way in each time, or you will have an 'unrecognized object' error message.
Do not place vials in the corners of the tray.
How to 'Mark vial as full' if needed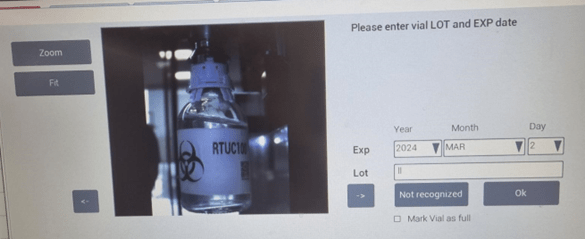 How to confirm expiry and lot number
Need to load a drug that is already in the database
Follow the prompts and green lights: sometimes Pro needs you to wait before loading vials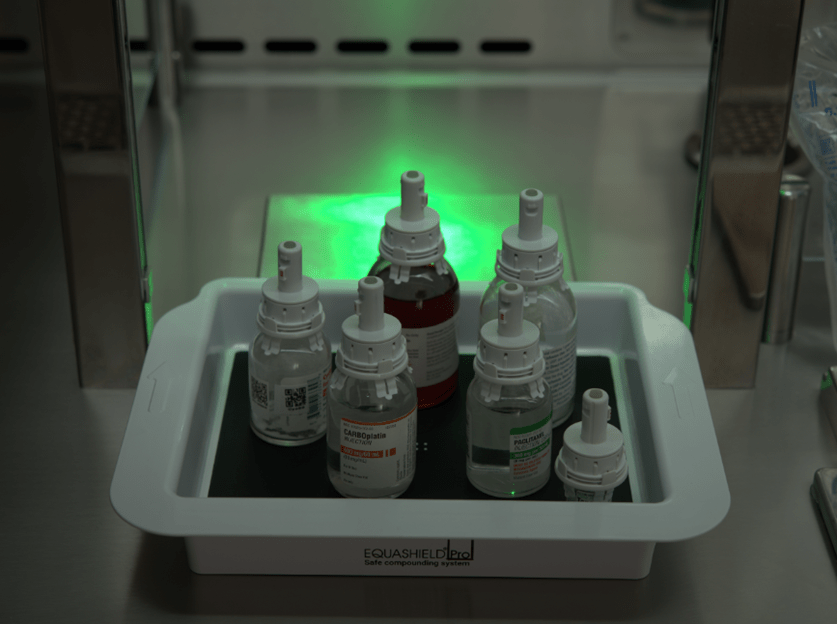 Some drugs have symbols if they are light sensitive etc.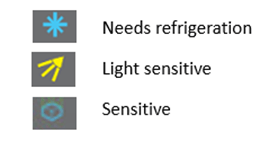 Whenever something seems "stuck", check manage vials tab
Have users load vials, confirm vials, and remove them.
Syringe Unit Loading #
Main Ideas:
Can only load EQ Syringe Units: not 1ml or EZ-60
Can load in any order
Syringe Units are good for 8 hours, then will get discarded
How to start the process on the user screen, everything in the left column is what is needed. Everything in the right column is what you have.
Do not pull on the plunger prior to using
Make sure the syringe unit is fully closed before loading
Load with the red lines facing the user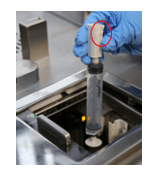 Do not touch the yellow membrane
It's okay to drop syringe units, it is the hardest part of the Pro process. It takes practice!
If nothing is happening, you can dip your hand to trigger an image
Do not close the door until the image of the last syringe was taken, and it has moved on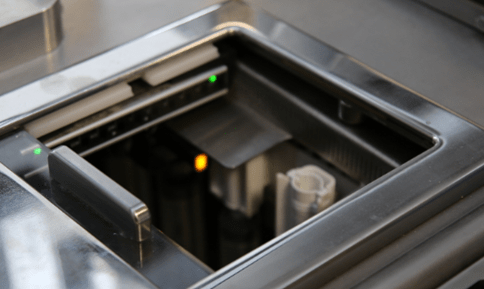 Do not load used syringe units
Sometimes there will be an 'Unrecognized' syringe unit, you can try again or use for manual preparation
Have users load syringe units, and remove them.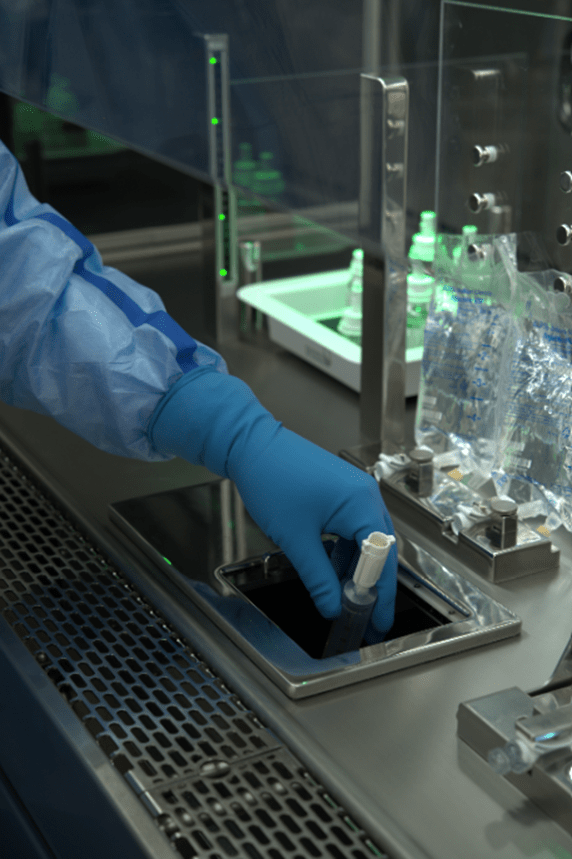 IV Bag Preparation #
Main Ideas:
Demonstrate the whole process from 'Print Sticker' to releasing the final product
Remind you can always reprint the sticker or cancel the procedure
When the prescription is compounding, it will go above the red line, show you want station on the screen, status circle, and button colors will change according to status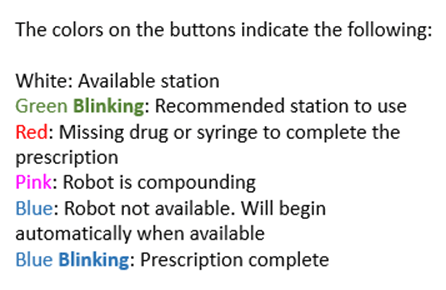 When the prescription is complete, it will disappear from the worklist
If the prescription fails, it will reappear on your worklist
Always apply CSTD products under the hood
If you are using a tubing set, prime the tubing set before locking it in the station
Show the number of stations
Explain the idea that 1 pump for stations 1-4, one pump for 5-8, how to be efficient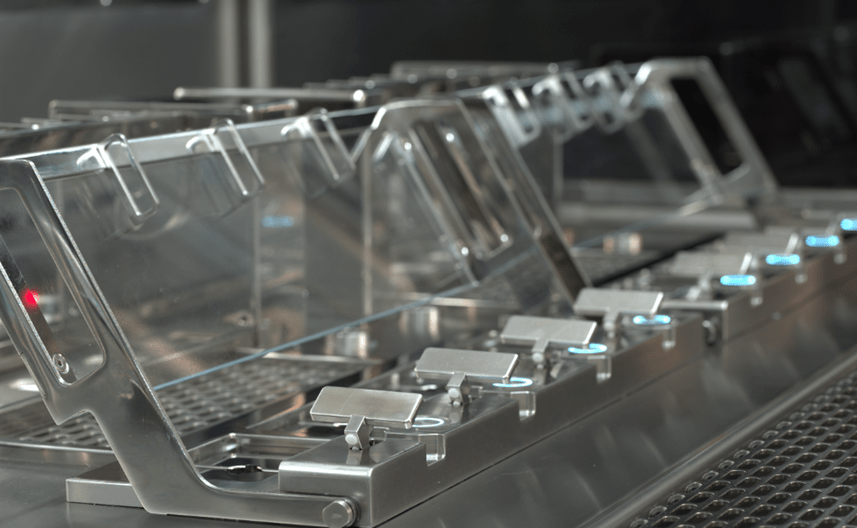 Vials are FIFO, first in-first out
Height is adjustable for different bag sizes
IV Bags locked in place for safety can only take out a finished approved product with the correct patient label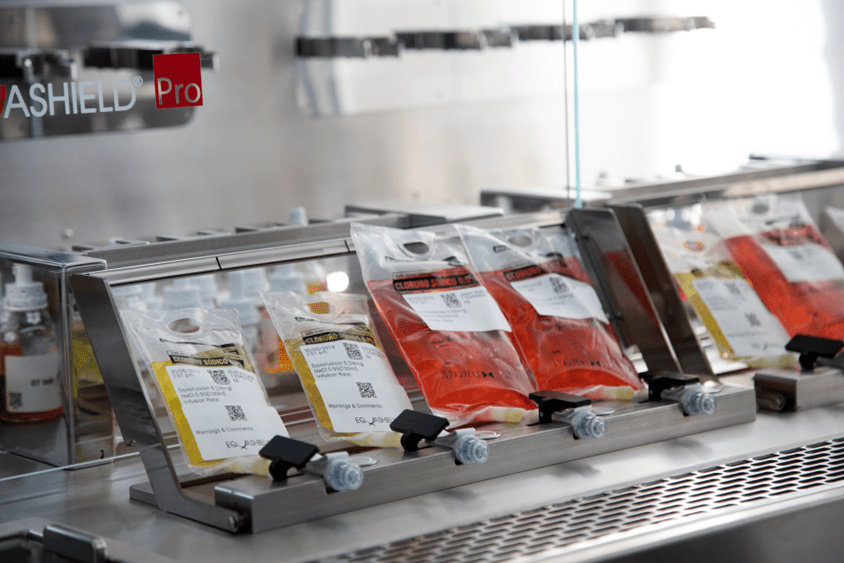 Can use your hand to help the camera takes images
First sticker tells the Pro what to do, the second says the medicine is safe for use, and with all the info
Should continue to check finished goods as per protocol
"Flushing" process is done to minimize loss of drug in dead space
Have users make multiple IV Bag preparations
Offline Station #
Main Ideas:
Confirms you have the right IV bag solution and volume for the prescription
Need to confirm lot and expiry
If image processing is busy somewhere, it will take additional few seconds
Be patient! It seems slow, but it is actually more efficient if you wait for it to take a proper image
Do not cover the name of the solution or volume amount with sticker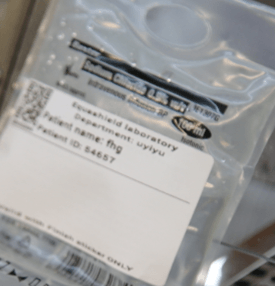 Helps to have the EQ sticker as close to the label of IV bag as possible, somewhat center of the bag
Make sure the bag isn't sliding and is in the frame of the camera
Place the bag "upside down" in the offline station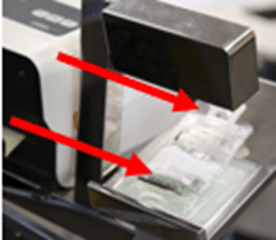 Will attempt 3x for a picture, then manual entry
Sometimes there are 2 locations of name, try not to cover both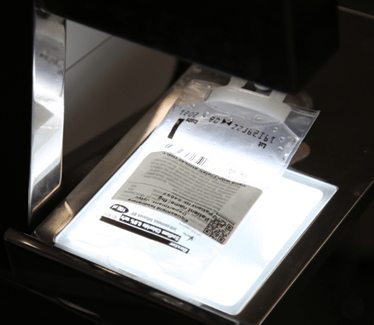 Test what happens when you take the wrong solution or volume
Syringe Unit Preparation #
Main Idea:
Demonstrate the whole process from 'Print Sticker' to releasing the final product
Place the sticker at a station in a way that is easy to remove
Highlight that you only take a finished syringe unit when the light is blinking blue and has a finished status on the screen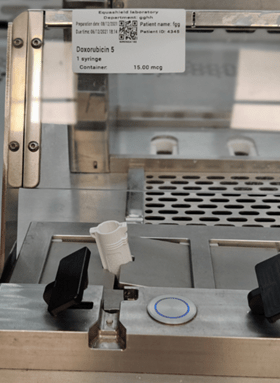 Must apply a finished label that is automatically printed to the syringe asap so there is no chance for label mix up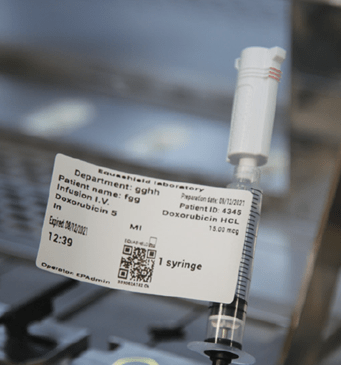 Careful not to drop the finished syringe through the flaps
Visually inspect the finished syringe as per facility protocol
First sticker can be discarded, it is the finish sticker that is important
If there are 2 syringes for the same prescription, the label will say 1 of 2, 2 of 2
Have the user make multiple syringe unit preparations.
Reconstitution #
Main Ideas:
Reconstitution is slow! That is why we have a separate section. You can continue with other compounding processes.
The Pro has to do the reconstitution. You cannot load a vial that has been manually reconstituted.
Must attach QR sticker prior to vial loading where it won't cover label.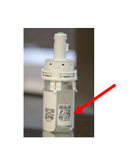 Stickers will be provided, but you can also print from the printer
Show reconstitution from start to finish. Including tabs and yellow/purple color lines in manage vials.
The first time the camera reads the QR code, it knows this is the first time meeting this vial and will reconstitute it. The second time it reads the QR code, it knows it has already been reconstituted and will put the vial in storage until activated by a prescription.
No swirling by Pro, inversion in place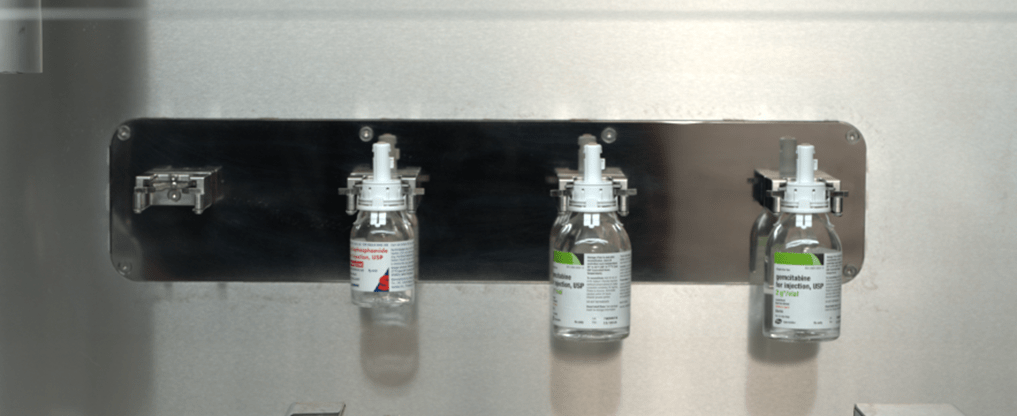 You cannot shake a vial on command, only at the time of reconstitution.
Shakers work in tandem of 4 and 4
2 stations for diluent bags: can be the same solution or different
After 10x uses with the diluent bag, the Pro will prompt you to change the diluent bag
Diluent bag is MANUAL entry. Must double-check that information entered is correct.
Pro will automatically check a reconstituted vial for removal for visual inspection.
Will shake vial according to drug database parameters
Have the user reconstitute vials.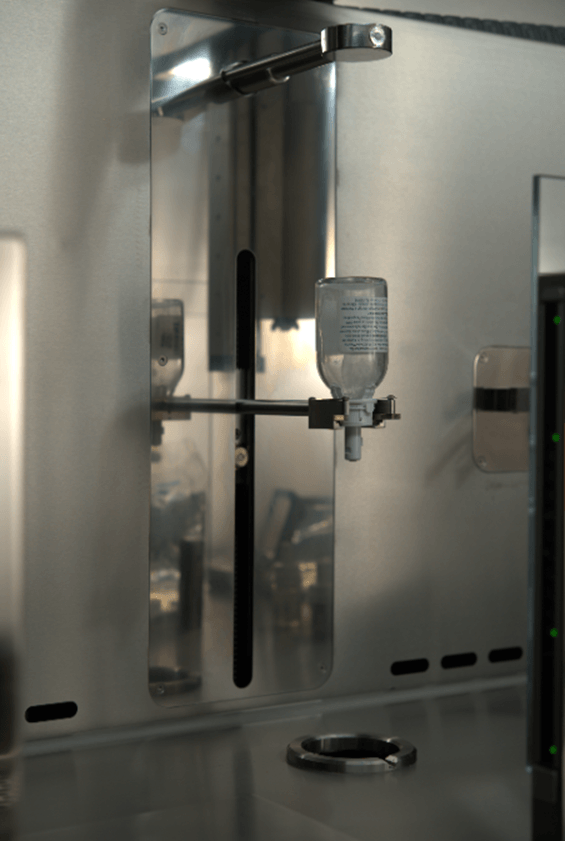 Cleaning #
Main Ideas:
How to empty bins
Empty Pro at the end of the day of all supplies, keep the power on
How to clean according to protocol
Use a telescopic wiper to assist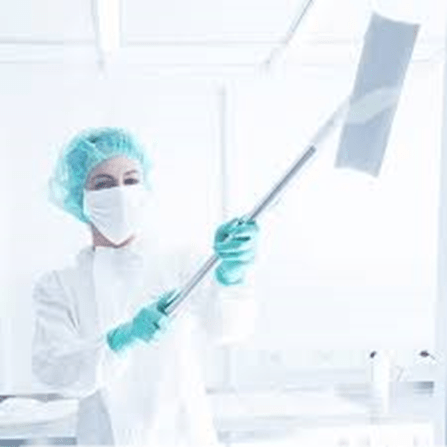 Cleaning is annoying but must do it! Microbial contamination can be deadly!
In case of chemo spill, follow spill kit and cleaning protocol per facility
Keep Pro power on, but log out of username when doing daily clean
Wait 5-10 minutes after compounding before cleaning
CSTD offers extra protection, but we treat it like it is not there
Only use approved cleaning materials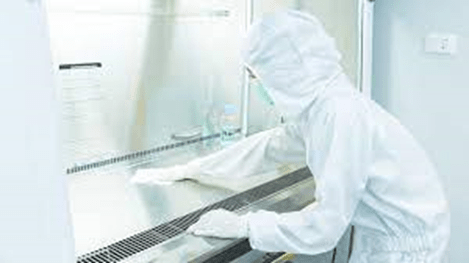 Extra careful around sensors
Not dripping solution to the bottom chamber
Have the user empty trash, and learn how to pull out glass GENTLY.
Step 5: Support for 'Go Live' #
Main Ideas:
Should have technical support in the clean room, guiding step by step
Assume users forget everything you have taught them and walk them through the steps
Set the expectations! There will be difficulties, restarts, etc. But it will get better
If there is a malfunction, try to get as much info as possible and report to EQ headquarters
If it is possibly a CSTD issue, try to get batch numbers of all items involved
Start with the cheapest drugs, simplest prescriptions
Build up prescriptions as learning curve improves. Much better to start slow and steady.
Support should be on campus for a minimum of 2 weeks.
Record the first official prep. Send to EQ J
Celebrate the big accomplishment!
Step 6: Ongoing Support #
Main Ideas:
Perform maintenance, calibrations, and software upgrades as needed. May require some 'downtime' from Pro
Service plan
Recertify training annually
Close contact with pharmacy and nursing to see what their needs are
User experience dictates the level of success